Attorney Robert Pastor of Montoya, Lucero & Pastor, and his colleague Jeff Anderson of Jeff Anderson & Associates have filed a new lawsuit in their fight against sexual abuse by the Diocese of Phoenix. The lawsuit was filed against both the Diocese of Phoenix as well as the Diocese of Lafayette, Indiana on behalf of a man known only as John TJ Doe. The suit alleges that Father James J. Grear, a Catholic priest, sexually abused John TJ Doe when Father Grear worked at a school in Navajo Nation in the 1970s. Fr. Grear worked as an assistant principal and later as a principal at Chinle High School.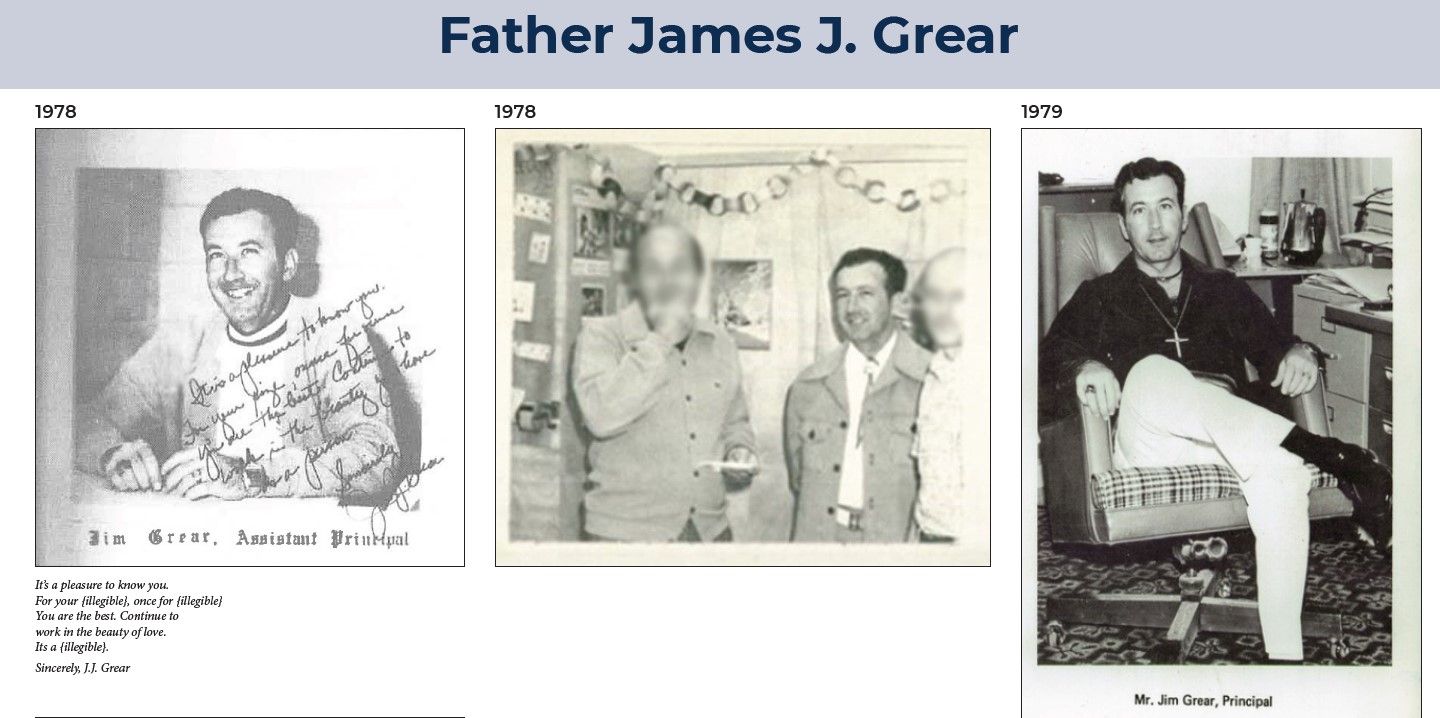 John TJ Doe is Navajo, grew up in Chinle, Arizona, and met Fr. Grear at the school when he was approximately 14 years old. Father Grear's sexual abuse of John TJ Doe caused severe trauma. For much of his life, overwhelming feelings of shame and guilt kept this courageous survivor from coming forward. Today, with changes in Arizona law that give survivors of abuse an opportunity to speak up and speak out against their abusers and the institutions that covered for them, John TJ has found the strength to shed light on the truth about Father Grear and the Phoenix Diocese.
John TJ Doe has come to realize that he is not alone, "I've come to understand I'm not the only kid who Father Grear preyed on." In his statement, he alleges that one of the reasons Father Grear was sent to work with the Navajo people is because the Diocese of Phoenix knew that in a rural community, others were less likely to learn of Father Grear's past and less likely to report Father Grear's sexual misconduct. "There were many other priests sent to places in Arizona and other places that were filled with people the Church thought would stay quiet about abuse," said Doe." I hope this lawsuit will embolden other survivors from Native communities and elsewhere to come forward and share their own stories."
History of Sexual Abuse by Father Grear
According to the lawsuit, the sexual abuse of John TJ Doe by Father Grear began in 1977 in Chinle where Grear was assigned. His position there followed earlier stints at multiple schools and parishes in Indiana where the priest also worked with minors. According to Attorney Pastor, Grear was often and repeatedly transferred to various locations by Church officials to cover up his trail of sexual misconduct. Once he was transferred from Indiana to Arizona, he was placed in mostly Native American and rural communities where it would be less likely that his behavior would be exposed.
Grear's work at Chinle High School was followed by transfers to Apache Junction High School from 1980 to 1981 and Eloy High School from 1981 to 1982. After that, he was transferred to South Dakota and then again back to Chinle High School, purportedly because he was familiar with Native American students. The lawsuit alleges that instead of exposing the truth about Father Grear and warning unsuspecting communities, the Diocese of Phoenix, along with the Diocese of Lafayette, worked together to hide Father Grear and his sexual abuse of children.
Attorney Pastor has said that wherever Grear was assigned and then reassigned, he left a trail of destruction behind him. "For decades, and probably longer, Catholic Church leadership followed a game plan to cover for pedophile priests by moving them to a new town, diocese, or state once clergy sexual misconduct was discovered," he said. "The Catholic Church knowingly moved pedophile priests to a new parish or diocese, hoping the families of abused children would stay quiet and the child sexual abuse by Catholic priests would remain secret." Attorney Pastor has alleged that Church officials often transferred the worst offenders to less prosperous and underserved communities because these communities would be less likely to have the resources to lodge legal complaints.
Earlier Accusations Against Father Grear
Grear has been the subject of at least four sexual abuse accusations by other men who sued the Diocese of Lafayette from 2011 to 2019. These accusations were based on their contact with Grear in Indiana during the 1970s and 1980s. In one of the cases, the survivor of the abuse reported it to the current Bishop at the time and was told to forget about it, keep it a secret, and ask God's forgiveness.
In 2001, Grear was removed from the Catholic Church as a priest. His name was added to the Catholic Church's list of Priests with Substantiated Allegations of Sexual Misconduct with Minors in 2018.
John TJ Doe's Story
John TJ Doe alleges that Grear began grooming him giving him gifts and showering him with attention. Grear also gave the boy and his friends alcohol which they would drink at Grear's home. Later, the boy was allowed to move in with Grear. Father Grear used John TJ Doe to recruit other boys to Grear's residence where the abuse continued.
The Arizona Child Victim's Act
The above lawsuit is part of an ongoing fight to provide justice to victims of sexual abuse by Catholic priests in Arizona. Under the Act, survivors of childhood sexual abuse have until December 31, 2020, to file lawsuits against the perpetrators of sexual abuse and the institutions that put these perpetrators in positions of trust where they had access to children. If you have been a victim of child sexual abuse or know someone who has, contact Montoya, Lucero & Pastor, P.A. to speak with our very own Robert Pastor. You can remain anonymous like John TJ Doe while making your voice heard and exposing the truth regarding child sexual abuse by Catholic priests.
Reach out to a Phoenix attorney at our firm at (602) 483-6869 or contact us online to arrange for a free consultation today.