Attorney Robert Pastor and colleague Jeff Anderson of Anderson & Associates filed a third lawsuit this month under the Arizona Child Victims Act. The lawsuit was filed on behalf of a man known only as John RK Doe alleging child sexual abuse. The abuse occurred when John RK Doe was a student at Brophy College Preparatory, an all-male Jesuit high school in Phoenix. The alleged perpetrator of the abuse was teacher/coach Father James Sinnerud who worked at the school during the 1980s. It is the first instance where Sinnerud has been publicly identified as having sexually abused a minor in the Diocese of Phoenix.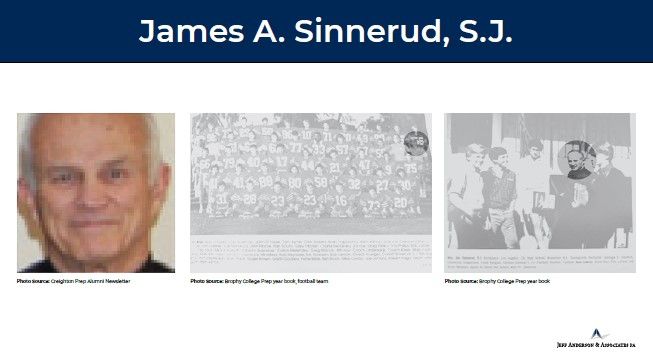 Attorney Pastor is quoted as stating that "by coming forward and identifying a previously unknown Arizona offender, this survivor is taking a meaningful step to protect our children and foster healing for those who are suffering in silence, wondering if they are alone. Too often the Catholic Church and its leadership remain deliberately ignorant of clergy sexual misconduct. If Church leadership wants to fulfill its pledge to protect children, they must stop concealing abuse and start protecting children instead of covering for priests. We applaud this survivor for having the courage to come forward and do the work the Catholic Church has failed to do."
The Arizona Child Victim's Act (CVA)
The lawsuit against Sinnerud is made possible under the CVA which became effective in May 2019. Under this Act, the time limit for filing lawsuits against abusers and the institutions that protect them was extended for abuse survivors who were denied this option due to the statutes of limitations. Under the CVA, these individuals now have until December 30, 2020, to file lawsuits regardless of when any abuse occurred.
Attorney Jeff Anderson has stated that "the Arizona Child Victims Act has provided an opportunity for John RK Doe and numerous other courageous survivors to speak out about the horrors they suffered then and now. We are honored to stand with him and them. It's time for a reckoning in the Diocese of Phoenix. It's time for the Bishop to come clean."
History Behind the Lawsuit
A Jesuit priest since 1960, Father Sinnerud worked at Brophy Prep from 1980 to 1987. Father Sinnerud was transferred from Brophy Prep to another Jesuit high school in the Archdiocese of Omaha. Attorney Pastor stated that "the timing of Sinnerud's departure from Brophy is consistent with the common practice of Church officials of moving perpetrators from place to place to cover up clergy sexual misconduct."
Father Sinnerud later taught at Creighton Prep, another Jesuit school in Omaha after leaving Brophy in 1987 until 2008 when he retired. However, continued working there as a substitute teacher and prefect even during his retirement. The Jesuit order identified Sinnerud has having credible allegations of child sexual abuse in 2018 and removed him from ministry. At no time did Church officials identify Sinnerud as an abusive priest on the lists published by the Phoenix Diocese. Currently, Sinnerud's whereabouts remain unknown.
The number of known abusive priests and clerics who have worked in the Diocese of Phoenix now tallies 110 individuals. Previously, Robert Pastor and Jeff Anderson produced a report identifying 109 abusive priests. The report included histories and photographs as well as evidence that some were transferred into positions where they still had direct access to children.
Bishop Thomas O'Brien, who served as Bishop of Phoenix from 1982 until 2003, admitted in a 2003 written agreement with criminal prosecutors that he moved priests to new parishes and schools knowing the priests had sexually abused children. Unfortunately, it remains unknown how many children became victims of sexual abuse in the Diocese of Phoenix as a result of the systemic coverup by Church officials.
Sexually Abused? Call Montoya, Lucero & Pastor, P.A.
Robert Pastor has been fighting for survivors of child sexual abuse his entire career. As a former felony prosecutor, he understands the value of justice obtained through the criminal courts. As an advocate for survivors of abuse, he knows how important it is for survivors of sexual abuse to take back their voice and expose the truth. Changes in Arizona law allow survivors of child sexual abuse to hold perpetrators and the institutions that covered for them accountable.
If you or someone you know has been a victim of sexual abuse, call our firm confidentially to learn more about obtaining the justice under the new Child Victims Act.
Contact us at (602) 483-6869 to arrange to speak with an attorney today.