Over the last decade, distracted driving has become one of the most common causes of car accidents in the United States. According to several sources, distracted driving is involved in 25 percent in all fatal collisions. When it comes to fatal crashes, teens are the largest age group to engage in distracted driving—with the common form of distraction being texting while driving.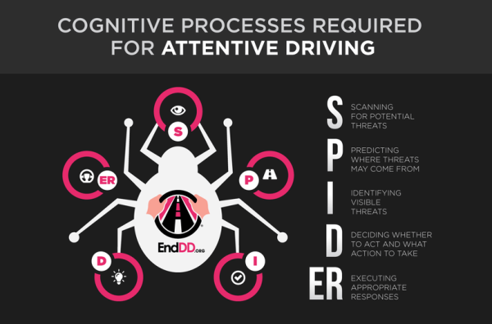 There are three main types of distraction: visual distraction, manual distraction, and cognitive distraction. Visual distractions involve taking your eyes off the road, manual distractions entail removing your hands from the steering wheel, and cognitive distractions mean your attention is not focused on the task of operating the vehicle.
Since distracted driving has become just as dangerous as operating a vehicle will impair or intoxicated, driving schools and organizations have taken into account distractions when it comes to defensive driving techniques. Defensive driving requires anticipation that the other drivers will commit unexpected errors which result in an accident. By preparing for those mistakes, we can avoid being a crash victim.
Created by David L. Strayer and Donald L. Fisher, the SPIDER method was introduced in 2015. The SPIDER method of defensive driving identifies key cognitive processes which are impaired when drivers are distracted.
Breakdown of the SPIDER acronym:
Scanning for potential threats

Predicting where threats may come from

Identifying visible threats

Deciding whether to act or what actions to take

Executing appropriate Responses to those threats
Essentially, defensive driving requires drivers to have complete focus when completing these series of cognitive tasks. Vigilance entails keeping an eye on other drivers and even pedestrians while driving on the roads and waiting for the light to turn green on an intersection.
If you have suffered an injury in a car accident caused by a distracted driver in Arizona, our Phoenix personal injury attorneys at Montoya, Lucero & Pastor, P.A. are committed to maximizing the compensation you deserve to pay for medical bills, lost wages, and pain and suffering. We can investigate the collision, collect evidence, negotiate with insurance adjusters, and hold the other party accountable for your injuries.
Have you been injured by a distracted driver? Contact Montoya, Lucero & Pastor, P.A. today to request a case evaluation for more information. Se habla Español.